Q. What is an urgent care center?
A. An urgent care center is used for episodic care for patients with sudden medical conditions that require treatment usually within 24 hours. When experiencing a non-life threatening situation (but could lead to a
potentially harmful outcome if not treated when immediate attention is required), a patient can receive treatment at NUC rather than seeking treatment at an emergency room. Patients should inform their Primary Care physician of such visit and consult him or her for follow up care. If the patient is in a life-threatening situation, please call 911 right away.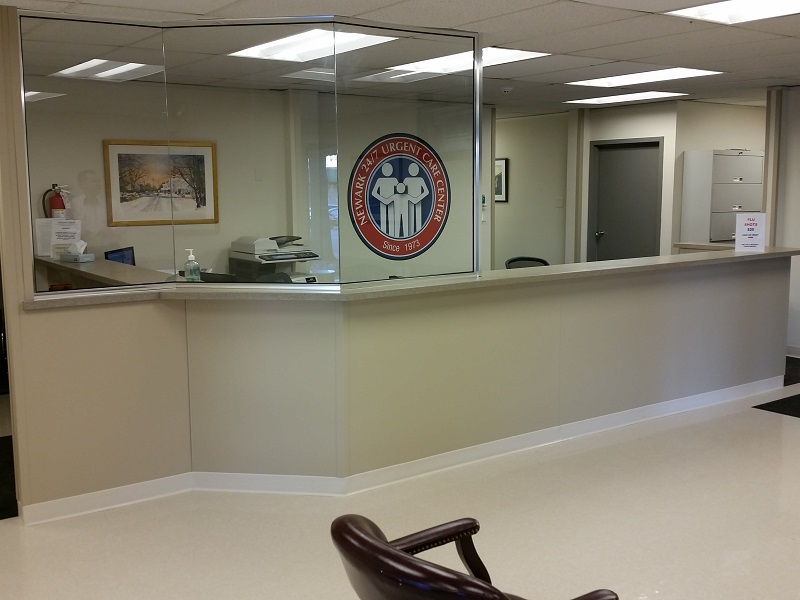 Q. What do I need to bring with me?
A. Please bring a photo ID and your insurance card with you.
Q. Is x-ray available?
A. Yes. We have x-ray facilities on site with x-ray technicians on staff available 24/7.
Q. Can I get an x-ray without being seen first by a physician?
A. Yes. We will accept an order from your doctor for general x-rays and the billing will be done by Papastavros Imaging.
Q. Must I make an appointment?
A. No appointment is ever needed.
Q. How soon will I be seen?
A. Unlike hospital emergency rooms, patients are seen in a very short time; often immediately, depending upon the seriousness of the complaint.
Q. Do you refer patients to specialists?
A. Yes. We handle initial treatment for your medical need and if necessary, we have a listing of appropriate specialists for your follow-up.
Q. What forms of payment do you accept?
A. We accept:
Visa
MasterCard
Discover
Check
Cash
Q. Will my health insurance pay for my visit?
A. Since there are many medical plans available through numerous insurance companies, we can not know what your particular Plan will pay. It will depend upon your coverage, co-pay, and deductible. Please check with your own insurance company if you are unsure.
Q. What about my co-pay, must I pay it at the time of my visit?
A. We ask that you pay your co-pay at the time of service. The amount is usually located on the front of your insurance card as specialist or urgent care.
Q. How can I get a copy of my medical records?
A. Records can be sent to you or your family doctor upon request and proper identification. There may be a charge for this service. Please call 302 738-4300 for further information.
Q. What type of Covid testing do you provide?
A. At our facility, both rapid nucleic acid amplification testing (NAAT) and rapid antigen testing can be done. Rapid testing results are completed in approximately 15 minutes. Patients who are sick and are exhibiting symptoms will be seen and evaluated by a medical provider. PCR send out testing to LabCorp is done only at the discretion of the treating provider and turn around time is dependent upon LabCorp.
Q. Do I need to make an appointment for a Covid test?
A. If you are sick, you are welcome to walk in at any time without an appointment. However, appointments will help to reduce your wait time if the clinic happens to be busy. Appointments are strongly recommended for asymptomatic and travel patients since we are only able to offer a limited number of testing slots per day for these specific patients. Once our asymptomatic and travel appointments fill up for the day, we will not be able to fit you in on a walk-in basis as we must be able to accommodate for our sick patient census. Appointmentments can be made on our website and are for same-day only.
Q. What hours do you offer Covid testing?
A. Covid testing is available 24/7.
Q. Is Covid testing free?
A. Patients who are sick and who are experiencing symptoms will be seen and evaluated by a medical provider and either you or your insurance will be billed for the sick visit. The cost for a travel-related test and associated documentation is $25. We do not accept insurance for travel-related testing. Asymptomatic testing is free and is offered as a service to the community.
Q. Do you provide clearance to return to work after someone has had Covid?
A. Newark Urgent Care is pleased to offer medical evaluations for return to work after Covid infection. You will be seen and evaluated by our medical team and you or your insurance will be billed. This clearance, if granted, is from a Covid spread standpoint only. Antigen testing can also be provided during this visit.
Q. Do you provide sports physicals?
A. Yes. Please bring any necessary paperwork with you and have the forms completed to the best of your ability prior to your arrival. At this time, we are unable to clear pediatric patients for sports who have had a past Covid infection. This is due to potential cardiac effects of Covid. The cost of a sports physical at our facility is $25.00. We do not take insurance for physicals.
Q. Do you provide pre-employment physicals?
A. Yes. We provide pre-employment physical and can provide tuberculosis testing if necessary.
Q. Do you provide D.O.T. physicals?
A. No. At this time, we do not provide D.O.T. physicals.
Q. Do you see worker's compensation injuries?
A. We see patients for the initial, acute injury. After that, please contact your employer to find out where you should be seen based on your employer's contract with local occupational health facilities. We do not fill out unemployment or work-related injury papers at our facility.
Q. What types of vaccines do you offer?
A. We currently offer the tetanus vaccine and when in season, the influenza vaccine.
Q. Do you provide drug screening?
A. No, we do not provide drug screening at our facility.
Q. What if I am seen at your facility and I am not getting better?
A. Please call us and let us know how you are doing. At our facility, we have a policy that if you need to be seen for the same complaint, we will not charge you for the subsequent visit as long as it is within seven days of the initial visit.
Q. How long is the wait?
A. Our wait time will vary depending upon our census. However, our patients are generally able to be seen within approximately one hour. During busy times, making an appointment online will help expedite your visit.
Q. What if I don't have insurance?
A. We will never turn a patient away due to lack of insurance. Out of pocket sick visits cost $140 and can be paid at the time of visit or billed.
Q. How do I pay a bill?
A. To pay a bill, please call (302) 352-0517
Q. How do I access my labs?
A. You can access labs that were sent out to LabCorp either through the LabCorp patient portal https://patient.labcorp.com/landing or by stopping by our facility and picking up a copy.
Q. What type of onsite laboratory testing do you offer?
A. We offer the following rapid (15 minute or less result time) tests: flu, mononucleosis, strep and covid tests. In addition, we can also test your urine on site for signs of a urinary tract infection with further send out testing to LabCorp for bacteria identification. Additionally, we have glucose and pregnancy tests available. Additional laboratory testing for illnesses including but not limited to sexually transmitted diseases can be done at our facility at the discretion of the medical provider and are sent to LabCorp for analysis.
If you are experiencing severe, possibly life-threatening symptoms, you should call 911 or go to your nearest hospital emergency room.